This great deal at
Canvas People
is expected to be good through the end of the month (so just a couple more weeks), so take advantage of it while you can (or perhaps wait till right after Christmas and have your favorite picture from Christmas morning put on canvas as a great gift for next year?). The best Christmas deals are often the ones you buy right after the previous holiday.
It's not to early to order a special gift for Valentines Day or Mother's Day either!
So how to work this deal?
1) Choose and upload the photo you would like printed
2) Choose what size. (8x10 is free + shipping/handling after $49.99 credit)
3) Chose any "extras" (framing, etc.)
5) Enter shipping information
6) Pay the $14.95 shipping/handling (this is still a GREAT deal for one of these)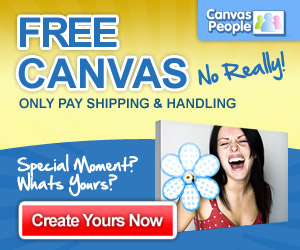 These photo canvases make great Christmas, birthday, anniversary, and graduation gifts as well.